This week's World Mama is from Washington, DC. Her Instagram feed is always so inspiring, because she posts a lot about child play. Nicole has the best tips for play development and how to organize play areas in your house, which she also posts on her website the Polished Playhouse. And today she is sharing 5 tips for getting your house organized, in a way that benefits your children. As a mom I always notice Aya can get into her play easier when the space around her is organized (doesn't have to be super neat! Just structured), so keep on reading!
Making the decision to begin and raise a family in Washington, DC has meant committing to living the city life.  This has meant lots of traffic, lots of people, and not a lot of space. When my husband and I found out we were expecting our first child, I immediately begin to wonder how we would make it work. You see, we live inside of the city within DC proper. The most typical home type inside of the city is what Washingtonians refer to as a "rowhouse."  While row houses are rich in historic charm they often leave much to be desired in regards to space.  Ours, to be exact, is 1200 sq. ft. As a person who thrives on organization, I went into serious nesting mode while pregnant with our son.
"The goal is not perfection. Who has time for that?"
Much like adults, children (even babies) thrive off of organization and structure.  This is particularly important when it comes to their environment. Ahead of Jonah's arrival I began to organize both a nursery and designated play area for him. It was important to me that everything had a place. The goal was not perfection, who has time for that? The goal was to maximize all of our available space to create a home that we could enjoy as a family.  If your family has limited space or if you are just looking to get better organized, here are a few tips.
1. Declutter
This is the most important task.  Go through the things currently in your home and take inventory of what you actually use.  Are you holding on to things that are broken?  Do you have multiples of a particular item when you could live with just one?  This can be difficult to do as we often have feelings attached to things, making them hard to part with.  But, be honest with yourself.  If you have things that you are not using, that are simply taking up space, get rid of them!
2. Everything needs a place
Create storage solutions for the things that you decide to keep. Everything should have a place. One of the things that has been helpful for me is purchasing cute baskets and bins that fit nicely with my home decor. It has been so easy to toss extra toys and books into the large storage baskets in my living room. Before naps and at bedtime, we work together to toss everything in. This helps to eliminate the need for a big clean up every night.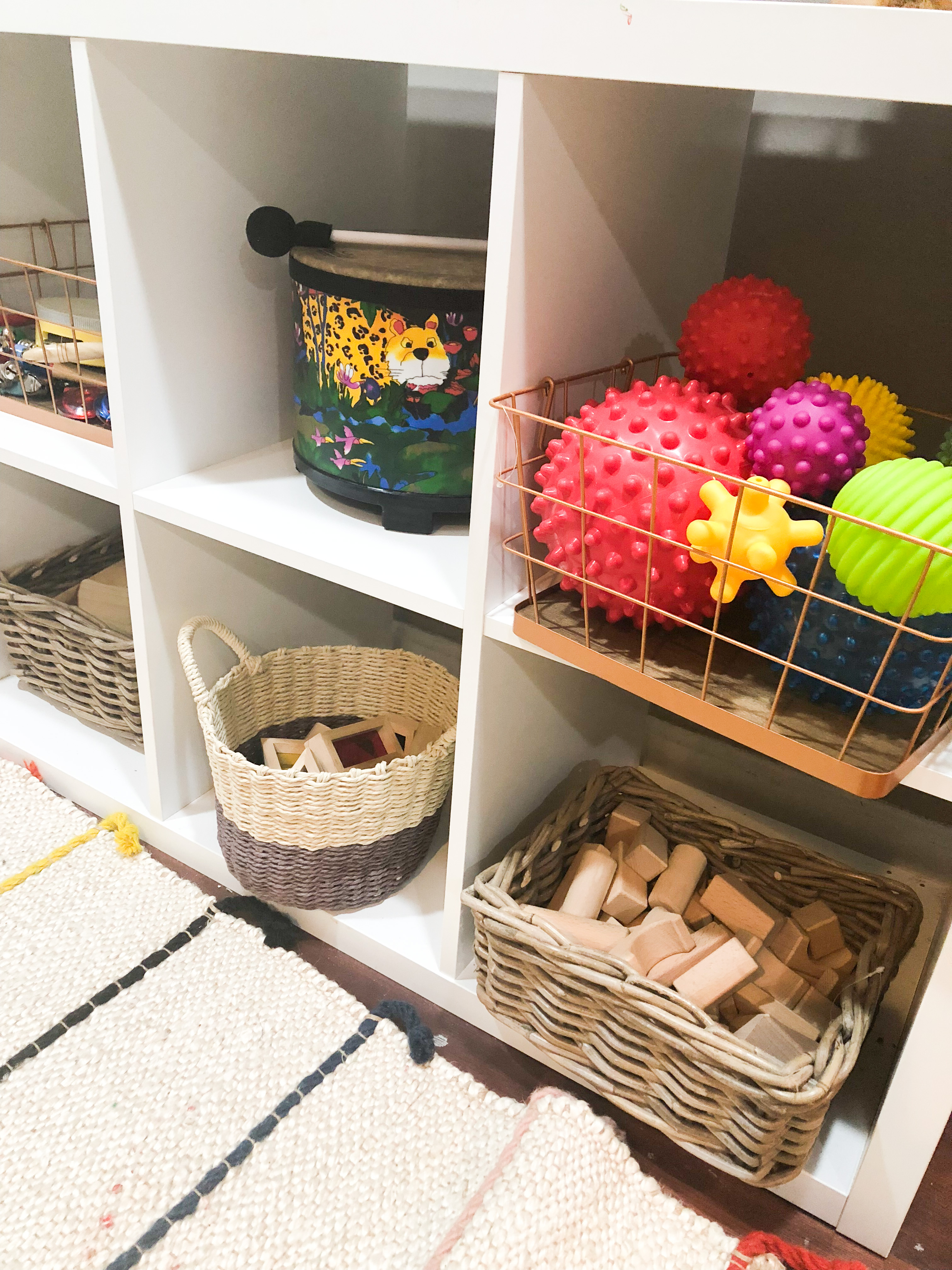 3. Furniture with Storage
When possible choose furniture pieces that have built in storage. In our playspace we have a coffee table that we added buckets to.  With the addition of the bins, we are now able to store small blocks and cars within the table.  I've also seen couches and ottomans with built in storage. In purchasing these types of furniture items you eliminate the need for multiple bulky furniture items.
4. Create Play Areas
If space permits, create a designated play area. Not only will this eliminate toy clutter throughout your home, play spaces can be very beneficial in helping children to engage in meaningful play and learn independence. Our playroom is a small basement den, nothing fancy.  It has been a lifesaver!  Most of the toys in the space can be accessed independently, making it a huge help for me when I am working from home and need to get things done.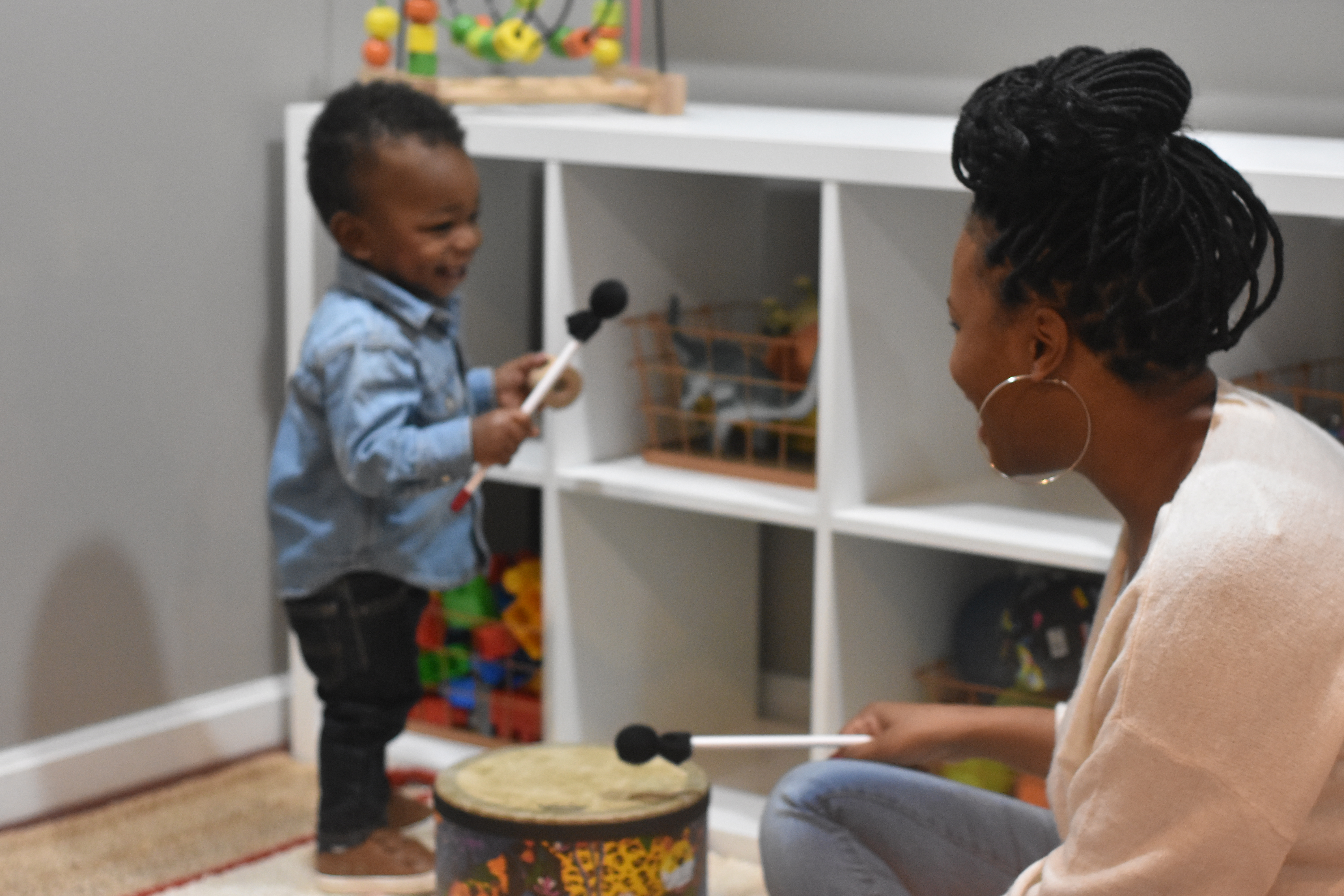 5. Making Memories can get Messy
Give yourself grace. This is one I am still learning but motherhood has a way of humbling you. I love when my home is organized but there are also days when my house is a mess! There are days when my son's toys stay on the floor a little longer than I would like.  Or days when the laundry piles up, but making memories can get messy.  Embrace it. In the end ultimately what matters in a home is the people and the love they share.
Love,
Nicole