Yesterday I tried a new recipe on my Instastories, for a healthy, vegan breakfast bar. I promised that if they were a succes I would share my recipe with you on the blog. And my, where they a hit! They are hands down the most delicious breakfast bars I have ever had. They are also super easy to make and you can vary endlessly with this recipe, creating a different bar every time. You can have a homemade batch of breakfast bars ready in 30 to 45 minutes. Want to know how to make these babies? Keep on reading!
Your grocery list, for 5 large vegan breakfast bars
100 grams (3,5 oz) of oats
60 milliliters (2 fluid oz) of oat milk
alternatives/variations: you can also use almond milk or any other plant based milk.
1 ripe banana
2 ready to eat dried figs
alternatives/variations: you can also use raisins, cranberries or prunes
2 ready to eat dried dates

a handful of mixed nuts
alternatives/variations: you can also use one kind, for instance almond, walnuts or cashews
one spoon of date syrup 
alternatives/variations: you kan also use ahorn syrup, honey or maple syrup.
half a spoon of maca powder
alternatives/variations: you can also use chia seeds, flaxseeds or raw cacao powder.
half a spoon of cinnamon
caution! because I am pregnant I need to limit my cinnamon intake. If you are pregnant as well, make sure you are following your doctors or midwifes advice regarding certain spices.
a teaspoon of vanilla extract (optional)
Also check out yesterday's recipe: my Delicious & Healthy Green Smoothie (Vegan!)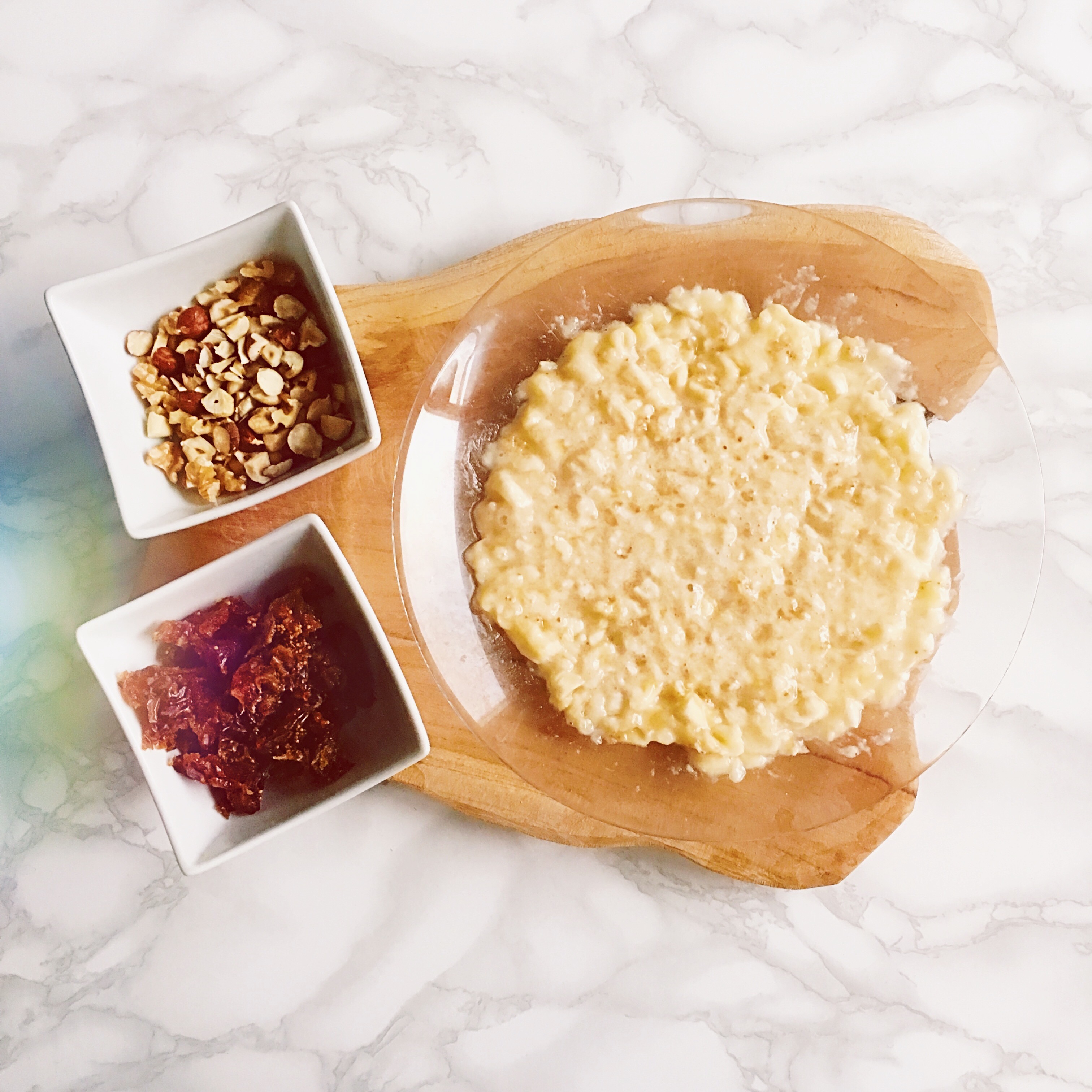 What you need to do
Pre- heat your oven to 180 degrees.
Measure your oats and milk.
Mash the banana and cut up the nuts and dried fruits, into tiny pieces.
Mix all the ingredients together in a bowl.
Put a baking sheet in a baking tin. If you don't have a baking sheet, use a bit plant based butter or coconut oil.
Spread your breakfast bar- mush evenly in the baking tin. Make sure it doesn't come up too high: about 1-2 centimeters (0.4-0.8 inches) is breakfast bar material.
Put in the oven for about fifteen minutes (check after ten).
Let them cool off and cut into pieces.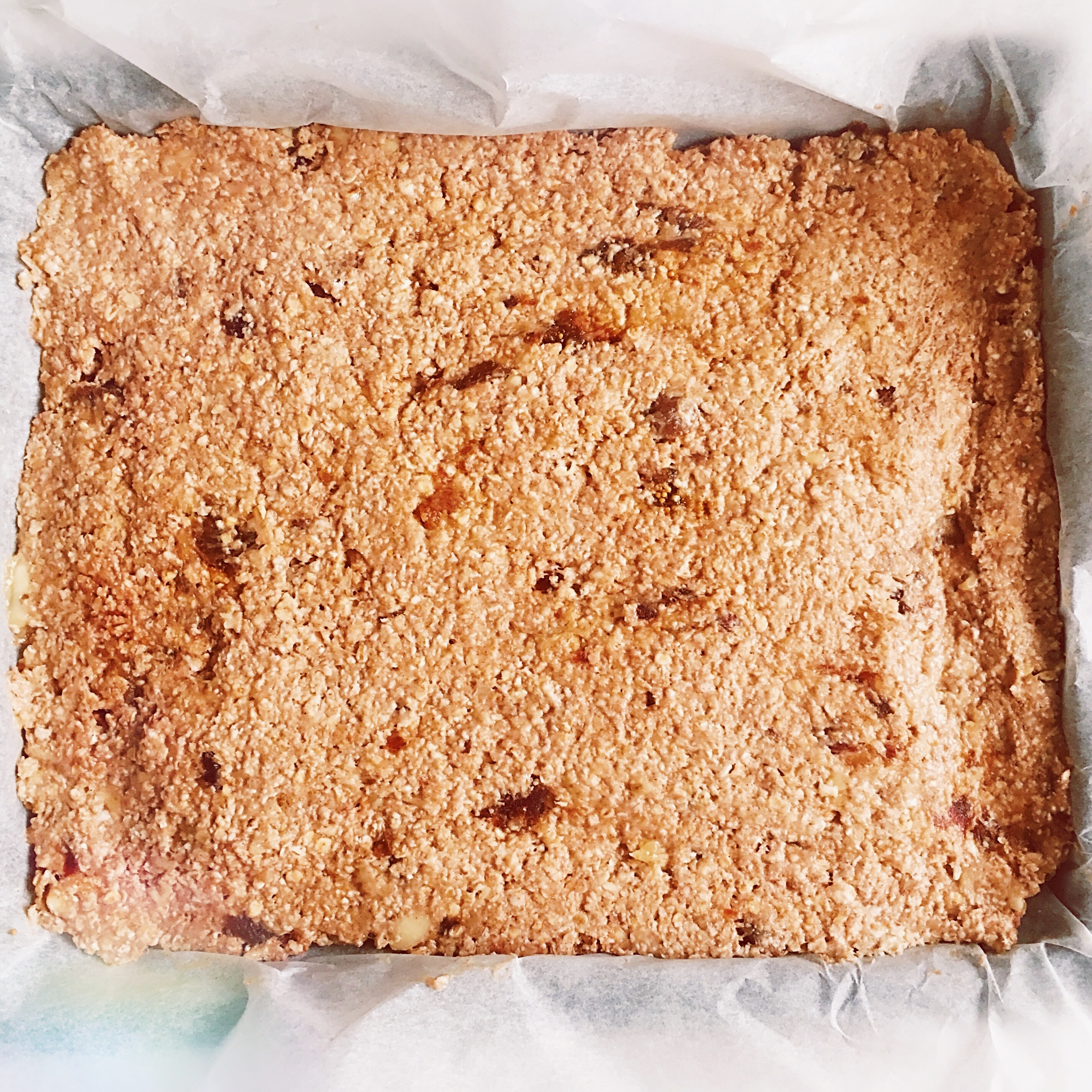 My inspiration for this recipe came from Ella Mills and her book "Deliciously Ella" – an amazing plant based cook book!
These bars are the perfect snack, breakfast on the go or tasty dessert. You can keep them for about four/five days, if you store them in a plastic box in your fridge. If five bars just isn't enough for you and your family, just double or triple up on the ingredients and you'll be fine. And don't be afraid to try different variations of this vegan breakfast bar!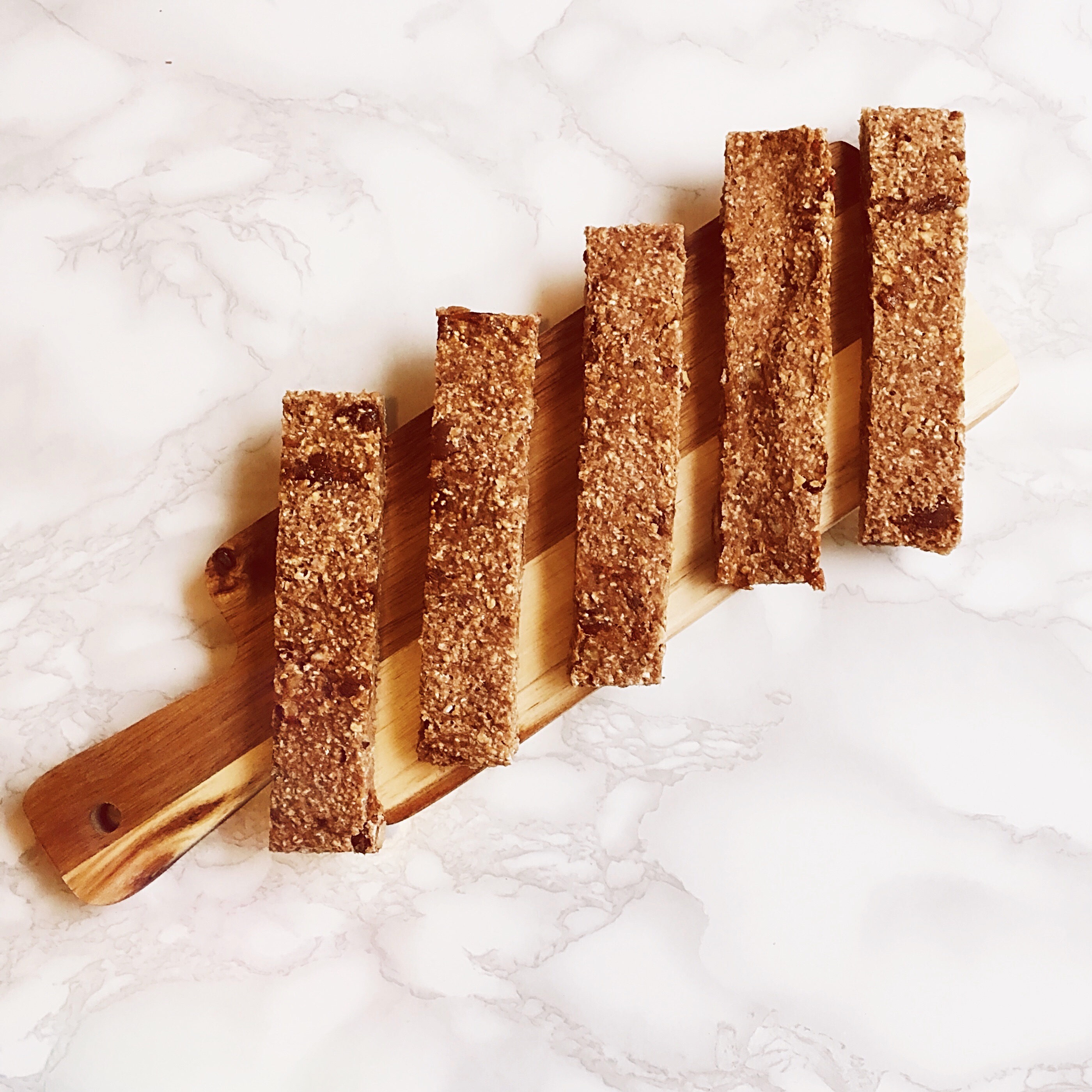 Enjoy!